GRAPHITE BARRIER
Ann Rosén – Mikko Raasakka – Petri Kuljuntausta
CANCELED. Due to some unforeseen circumstances we regretfully have to cancel this event. However we are planning new concerts for 2019. We will let you know.
Concert at Myymälä2 gallery, Uudenmaankatu 23 F, Helsinki
Saturday, November 10th, 2018, at 19.00
Musicians: Mikko Raasakka clarinet and objects, Petri Kuljuntausta electric guitar and objects, and Ann Rosén electronics.
Produced by Akusmata and Myymälä2.
---
GRAPHITE BARRIER – an instrument, composition and project by Ann Rosén.
The Graphite Barrier instrument consists of graphite, paper, computer and Ann Rosén´s own software with which she can create and control sounds by drawing. Through playing the Graphite Barrier instrument one can play, conduct and generate graphic scores all at the same time.
https://vimeo.com/channels/935518
https://soundcloud.com/schhh-production/sets/the-great-barrier-orchestra
http://storabarriarorkestern.se/
---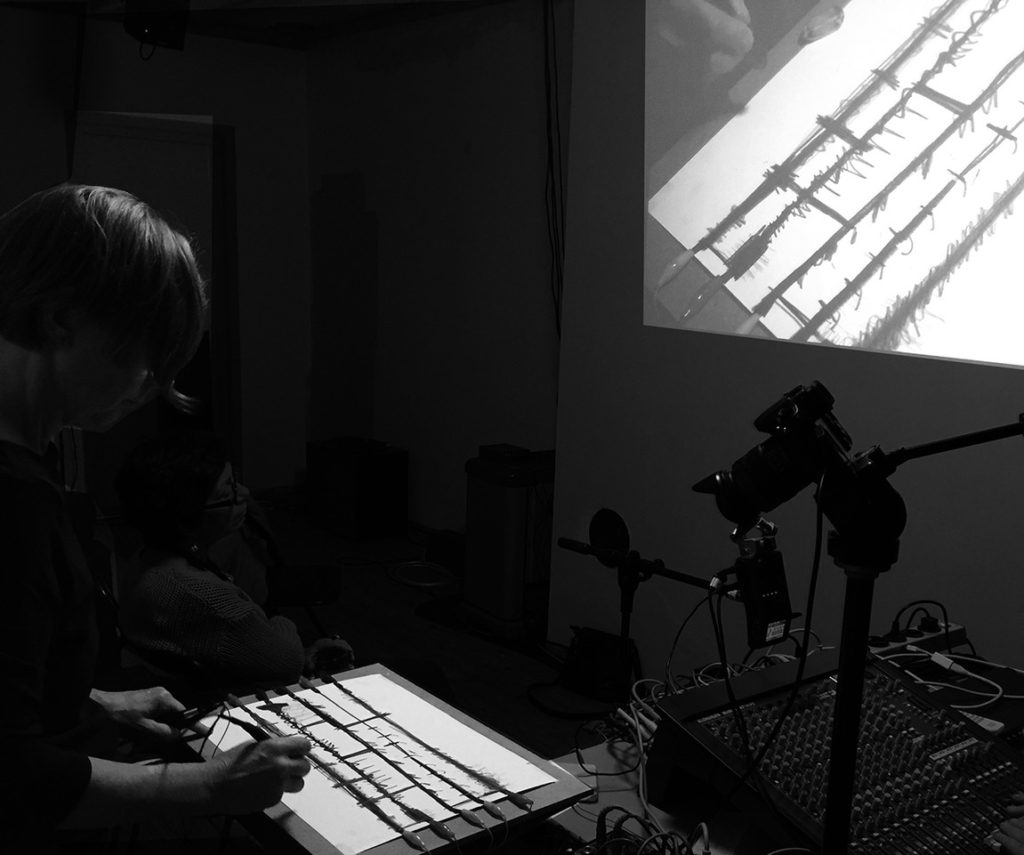 Ann Rosén
Ann Rosén's sound art involves expanding the palette of sounds using her own selfbuilt instruments. Glitches, sparks and clicks, white noise and electronic artefacts characterise her sound world, as do spatial soundscapes created using real-time synthesis. Many times there are visual elements of design, equipment and materials innovatively integrated into her performances. In recent years the composing – usually in combination with Ann Rosén's self-made electronic musical instruments – has taken an increasingly large place in her oeuvre. In the work RESILIENCE and through the BARRIER ORCHESTRA, her long artistic activity is mirrored in modular pieces for the custom-built instruments KNEECUFF and INTEOCH, voice and mixed instrumentation. THE BARRIER ORCHESTRA and the piece RESILIENCE are part of Ann Rosén's The Great Barrier Orchestra project, which aims to challenge our inner and outer barriers, deepen collaboration with the musicians, composing and developing new instruments, playing techniques, music and art.
---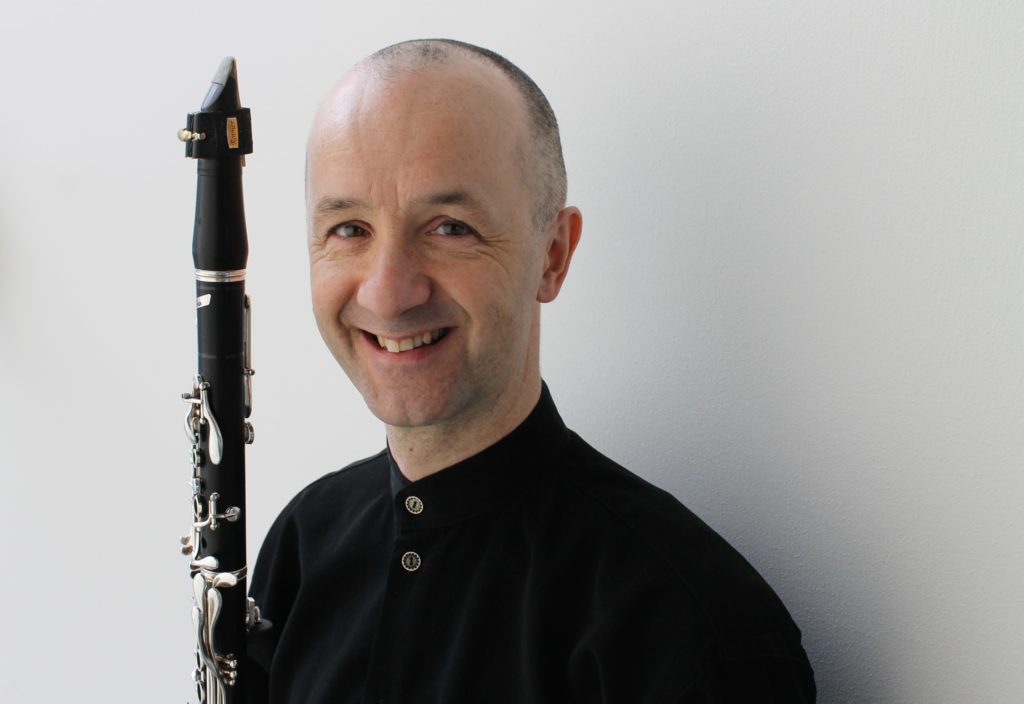 Mikko Raasakka
Mikko Raasakka (www.raasakka.net) is a freelance clarinetist living in Helsinki, Finland. Mikko completed his artistic doctorate at the Sibelius Academy 2005. He works as a soloist, orchestral and chamber musician, improviser and pedagogue. Mikko has premiered dozens of new clarinet works, including five concertos. As a member of defunensemble, an ensemble devoted to contemporary electro acoustic music, he appears regularly at the European new music festivals. Mikko makes regularly recordings for the Finnish Broadcasting Company. His solo CD Eliangelis (Alba Records 2014) had an enthusiastic reception. Mikko is the author of a guide on contemporary clarinet technique Exploring the clarinet. In addition to all members of the clarinet family Mikko plays the liru, an archaic Finnish folk clarinet.
---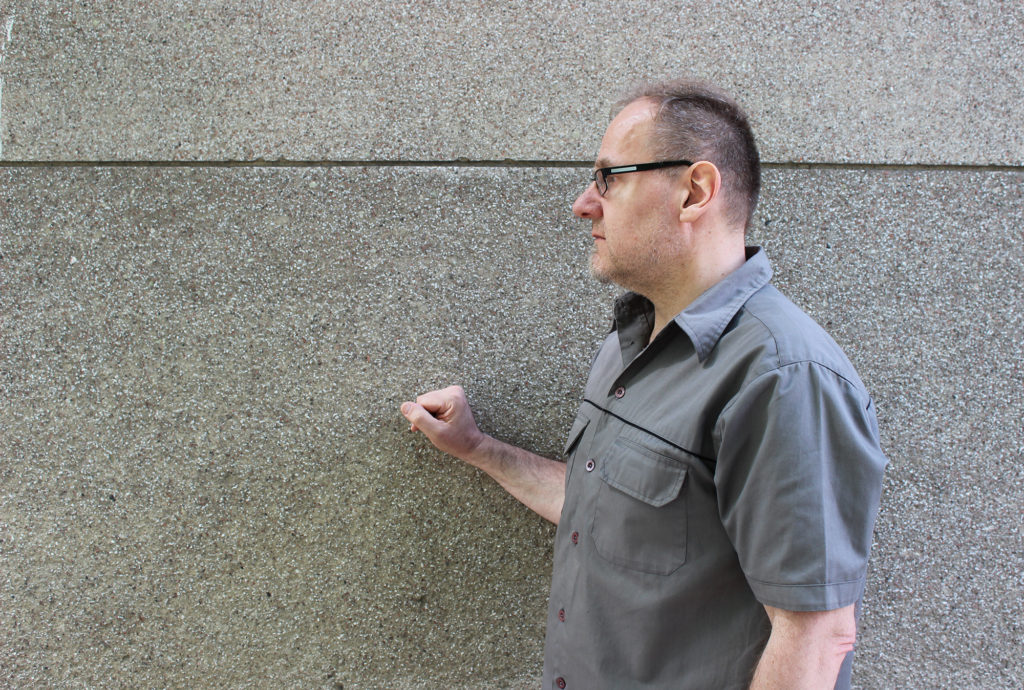 Petri Kuljuntausta
Petri Kuljuntausta (kuljuntausta.com) is a composer, improviser, guitarist, and sonic artist. He has performed music for an underwater audience, improvised with the birds, and made music out of whale calls and the sounds of the northern lights. As an artist he often works with environmental sounds and live-electronics, and create sound installations for galleries/museums.
Kuljuntausta has performed or collaborated with Morton Subotnick, Atau Tanaka, Richard Lerman, David Rothenberg, and Sami van Ingen, among others. He has made over 100 recordings for various record labels in Australia, Colombia, Finland, France, Germany, India, Sweden, UK and the USA. Star's End and Inner Space radio shows selected Kuljuntausta's "Momentum" as one of the most significant CD releases of the year. Kuljuntausta has published three books on Sound Art and Electronic Music. In 2005 he won an award, The Finnish State Prize for Art, from the Finnish government as a distinguished national artist.
« LIVE: OWL – Karl Bjorå & Signe Emmeluth LIVE: Samuli Tanner & Arttu Partinen »