VOIX
Variety of sounds and ties to realities
A Group Exhibition
Date: 26.2. – 9.3.
Opening time:  Mon – Fri, klo 14-18.
*    *    *
The University of Lapland brings to Helsinki a VOIX sound exhibition with nine artists. 

In the works will be examined the own space

, environment, mass tourism, world conflicts, musical dimensions and independence. Artists come from Finland and China.
*    *    *
Artists:
Dao (CN)
Kari Hautanen
Pekka Kumpulainen
Heidi Kenttälä
Dawei Li (CN)
Roope Mäenpää
Markku Riipi
Jari Rinne
Heikki Timonen
*    *    *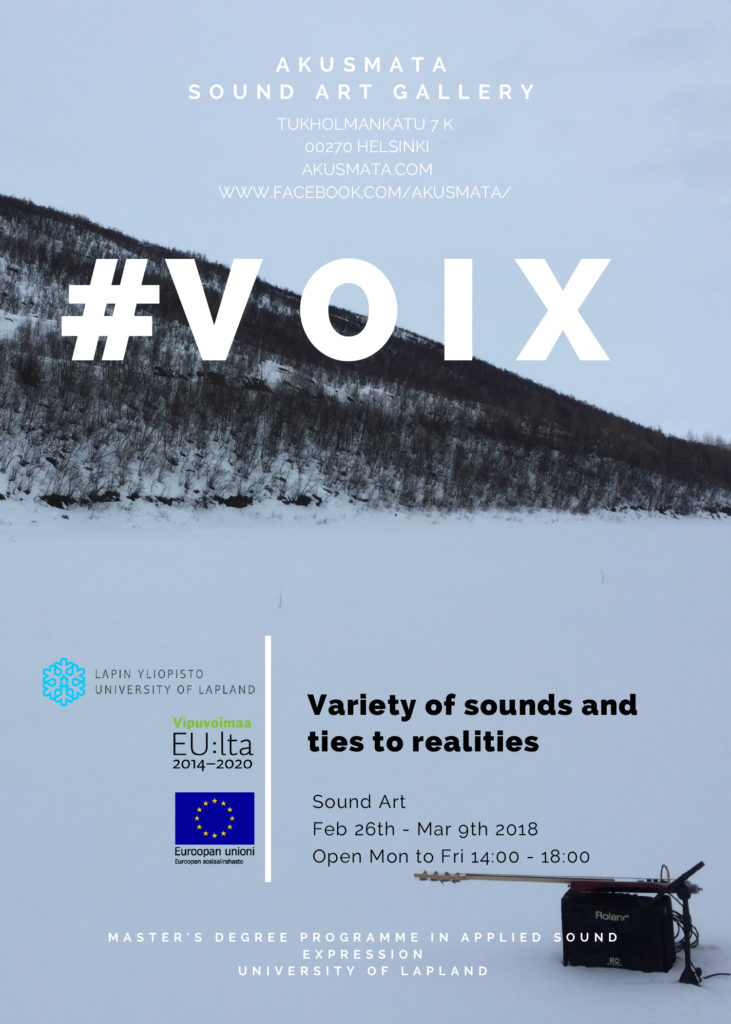 *    *    *
DAO: EMPTY JOY
[Empty Joy] is a sound acquisition project that started in June 2017. It takes about 2 months to collect the national traditional music, Shaman's sacrificial music, sound of nature and atmosphere in southwest China, Laos, Vietnam and Thailand. The movie [Empty Joy VOL1/Nothing], as a part of sound art project [Empty Joy], takes the concept of sound movie, is the Dao's extension and experiment in his work. The sound acquisition project collects various sound, including the sacrificial music from Miao(a minority in Asia) in Vietnam, the Jinuo traditional songs, noise from flea markets in Dali(a major city in Yunnan), the sound of Buddhists' chanting and bell ringing in Polo Temple in mountains, the sound when people practicing White Crane boxing, the sound comes from hundreds of bats in deserted temple in Vietnam and the sound recorded from Dao's improvisation with local musicians in a reggae bar on Khao San Road in Thailand. At the same time, he inserts the clues of his experience in the movie, which are three sections of Dao performing saxophone and cello in the street. Dao uses the materials as veins of the sound movie and his story, playing a non-vison, auditory stimulation based movie.
*    *    *
DAWEI  LI: 1200 SECONDS OF SUNSHINE IN BERLIN
Some images do not need to be processed or modified, just recording real pictures. The secret is the image itself, and it shows some sights to you, just like a mirror. The experimental image of 1,200 seconds of sunlight in Berlin is a coincidence. When first coming to Berlin, I was impressed by its unsettled weather that sun and rain often appeared in one day. I often saw that amounts of clouds fluttered with the wind in a fine weather, sunshine constantly appearing among the clouds. This scenery is very common in Berlin, but it can show different conditions under different substances. In a morning, I got up, seeing the sunlight filtering through the curtain into my interim studio in Berlin, where the shadows and the sunlight were interlaced with the moving clouds. I didn't open the curtain to see the flowing clouds and sunny sky, while picturing this beautiful moment. MI Lin and I quickly move out the window workbench, starting to record this scenery. Also, some words from us and some voice of cough were included, I didn't delete these because they were also necessary parts in the image.
*    *    *
KARI HAUTANEN: UMBRELLA
A downward umbrella is hanging from the ceiling, with a small loudspeaker attached to it. The sound of rain can be heard through the loudspeaker. The umbrella acts as a parabolic reflector that reflects the sounds directly down. The sound is only heard when a PIR motion sensor detects a potential listener below the umbrella. The sound is produced using an Arduino microcomputer and an included SD memory card, plus a small loudspeaker. The umbrella is made of transparent plastic, with diameter ca. 70 cm.
KARI HAUTANEN: MIRROR
A board, or mirror, in which the sound that is heard transforms according to the general colouring of clothing of an approaching person. The board is located on the wall, and a viewer is able to see his or her own reflection. The camera lens monitors an approaching viewer and draws its own conclusions about the colours and the matching sounds. The computer and other electronics needed to produce the sound are latent. Colour analysis is carried out using RGB and Luminance sensors. The sound is produced using an Arduino microcomputer and an included SD memory card. Size of the artwork is 28 x 28 cm, with depth ca. 7 cm.
*    *    *
PEKKA KUMPULAINEN: BOUNDARY
This artwork deals with its own space. The space of the artwork is technically bounded using a booth resembling a polling booth, with handsets and a picture inside.
*    *    *
HEIDI KENTTÄLÄ: MASS TOURISM
Mass Tourism is an acoustic tour to the core of Rovaniemi Christmas Tourism. Rovaniemi and Lapland are described as magical and mythical, the home of exotic Santa Claus, where the number of reindeer exceeds the number of people. Tourists are set to enjoy reindeer rides, huskies, snowmobiles, and cross the Arctic Circle. By documenting the Rovaniemi Christmas season, I wonder how the clichés related to Christmas Tourism do sound – or not. Welcome to the journey!
*    *    *
ROOPE MÄENPÄÄ: SARABANDE
Pastiche of J.S. Bach´s (1685–1750) G-major solo cello series, part Sarabande 2018
In the metadata of music, a lot is talked about the similarities of cello sound and human voice. It is believed that people like any sound that matches their own communication style. The form of Bach's dances is plaited into its simplest shape, which puts the instrument, its sound and the musician's sensitivity on a pedestal. Can musical communication understood as a flowing? Audio – 3′
*    *    *
MARKKU RIIPI: FINLAND 100
Finland 100 deals with 100 years of significant events in Finnish history from an author's point of view. Those events – both happy and sad – that have been fixed in the depths of memories of authors as very important events. Duration ca. 27 min.
*    *    *
JARI RINNE: SNOWBALL SOUNDS
Snowball Sounds is driven by speech and the sounds of situations. The sounds of the artwork have been collected from What's up voice messages and vocal reports sent by young people, as well as from trips to Serbia, China, Russia and Utsjoki.
Speech is the cleanest subjectivity, the formation of identities and the positioning of self into a position. Sound produces and limits space which as a speech and act produces a social identity that is constantly changing. Alternative identities, consisting of self and other dialogic categorisation skills, as well as identification, are built for other people and the world in everyday speech. In the blizzard of speaking, self is a product of socialisation and my own subjectivity snowballs among others. The artwork deals with the identity of individuals as possible worlds, whose various facets are brought forth by the thoughts seeking to shape their piecemeal monologues. Bladdery conventions governing in a temporarily seeming society bring forth identity crystals approved by the community, and in their snowdrifts we build our own snowflakes for speeches. The sound compilation reflects on Gareth Dylan Smith's "Snowball Self", a conceptual notion that describes the construction of identity from multiple meta-identities and contextual identities.
*    *    *
HEIKKI TIMONEN: SOLO FOR BALALAIKA – THE POLITICAL ACT
Solo for Balalaika – The Political Act – in my performance artwork, I express my political opinion on current international politics in the spirit of Fluxus art trend. This artwork is based on the famous international conflicts that we have regretfully had to follow in recent years. Video duration: 1 min 10 sec.