Saturday 11.11.2017
18.30 – 22:00 (Showtime 19:00)
Voluntary 5 euro entry fee
---
Born in Poland but now based out of Calgary, Canada, Valiska creates gritty, overcast soundscapes inspired by the likes of Tim Hecker, Rafael Anton Irisarri, and Grouper. Although his hometown is often overshadowed by other Canadian cities such as Montreal, Valiska has been part of an insular but slowly expanding scene, exploring strands of experimental drone and ambient.
On Pause is Valiska's most personal work to date, and consists of eight tracks that recount a series of life-changing events that occurred between 2016 and 2017. Charting this journey of loss and upheaval, the music is melancholic and at times painfully stark but does not dwell in dischord – with passages of optimism, hope, and even fleeting euphoria.
https://soundcloud.com/valiska
---
Jarmo Huhta's current project combines real instruments with electronics. Cinematic expression fuses dark ambient, drone, neofolk and free-jazz elements with modern classical influences.
He uses instruments like cello, piano (natural and inside effects), accordion, french horn, clarinet, voice, and ethnic percussions like taiko. Low end rumbles evoke to sense the music not just with ears, but with the entire body.
Besides his real name, Huhta works under the name Twile.
Twile represents dark and cinematic dub electronica. Huhta has also made music and sound for various video- and dance works, installations and paintings.
https://vimeo.com/164408979
https://www.youtube.com/watch?v=SYwEkVmR1zM
---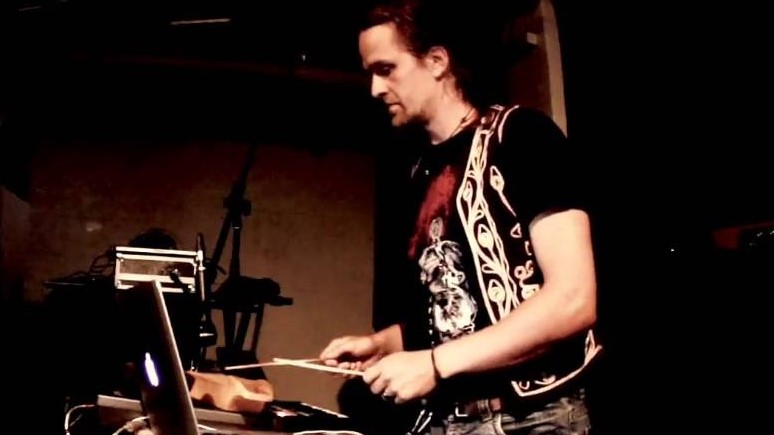 Utu Lautturi
The audio alchemy of Utu Lautturi is dynamic and challenging, ranging from world-flaying destructive waves to soft stereospheric sprites. Hues and shapes both bright and dim merge, only to dissolve into framed chaos. In his performances Utu utilizes electroacoustic improvisation, ritual vocals, organic sound design and pre-arranged sound collages to conjure nuanced journeys suited for deep introspection.
https://soundcloud.com/utu-lautturi
https://www.youtube.com/channel/UChX0Jx09ZXZYf5SSE08wWWg
The roots of Astroschnautzer reach deep into the core of Finnish psychedelic trance and synthesizer madness. Often based on self-built machinery, also known behind the monikers "Tutankhamon 9000" and "Bechamel Boyz", Astro has delivered his rhythmic frolic both on- and off-stage all around the world since 1997.
https://soundcloud.com/astroschnautzer
[ówt krì]
[ówt krì] is the phonetic writing of the word "Outcry". [ówt krì] is also the main creative output for Helsinki native Kenneth Kovasin.
Kenneth's musical history began in the early stages of the 21st century when he got hold of an Ibanez electric guitar. The first musical compositions showed very little originality nor vision, but this would change dramatically by the year 2005. Once expanding the musical horizon from metal to drone doom, ambient, contemporary classical avant-garde and minimalism, Kenneth was offered stimulants and inspiration for forming the concrete base for [ówt krì].
From there on the musical compositions of [ówt krì] have been an ongoing journey in a living and breathing fairytale. The story reached a new high in 2013 when American indie-label Alrealon Musique reached out with an offer to release the debut [ówt krì] CD "The New Seed (ALRN041)".
Further progress happened in 2014 when [ówt krì] performed live for the first time in Helsinki, since then [ówt krì] has performed in multiple cities both in Finland and abroad.
https://soundcloud.com/owtkri
http://www.owtkri.org/
« Akusmata artists on YLE TV and Radio Broadcasts Lauri Luhta: Architecture of Right »