Jack Balance, Outimaija Hakala, Jenny Mild
WYSIWYG

7.4. – 24.4.2017
Mon-Fri 14.00-18:00 PM
Exhibition opening on Thursday, 6.4.2017, 18:00 PM.

Trivial Zero's Opening Concert on Thursday, 6.4.2017, 19:00 PM.

*   *   *
Taiteilijat Balance, Hakala ja Mild työskentelevät purkamalla ja kokoamalla grafiikan ja mediataiteen elementtejä.
Yggdrasil, elämänpuu, luo sähkövirrasta kuultavan ja silmillä havainnoitavan kuvion äänen värähtelystä. Rikkinäinen tarina haastaa katsojan primääriaisteista kuulon ja näön seuraamaan triptyykkinä esitettyä kertomusta.
WYSIWYG on paljaaksi riisuttua sähkövirtaa. What you see is what you get
*   *   *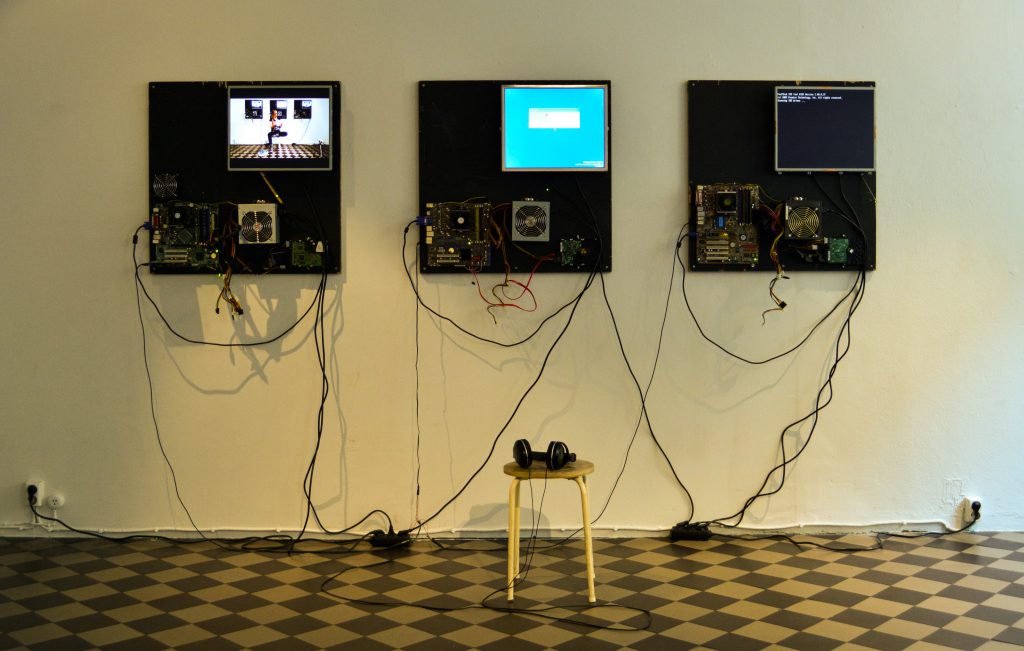 Artists Balance, Hakala and Mild are working together by tearing apart and reassembling elements from graphics and media art.
Yggdrasil, the Tree of life, creates a visual pattern from the vibration of sound, which is made by electric current.  A story on the fritz challenges ones primary instincts, to hear and to see a narrative that is presented as a triptych.
WYSIWYG is stripped down electricity. What you see is what you get.
« Elias Pöyliö: Resting Place LIVE: Francesco Cavaliere (ITA), Nuslux, Half a Map »