Helsingin reitit – The Routes of Helsinki 2010-2020
Open: 6.-19.9.2019 Tue-Thu & Sat-Sun 14-18 (Mon & Fri closed)
Opening: Thursday, 5.9.2019 at 17.00 – 20.00.
*   *   *
Opening LIVE EVENT on Thursday, 5.9.2019, at 18.00
illmari (spoken word)
Mikko H. Haapoja (jouhikko, soundscapes)
Elina Aho-Brennan (live painting)
---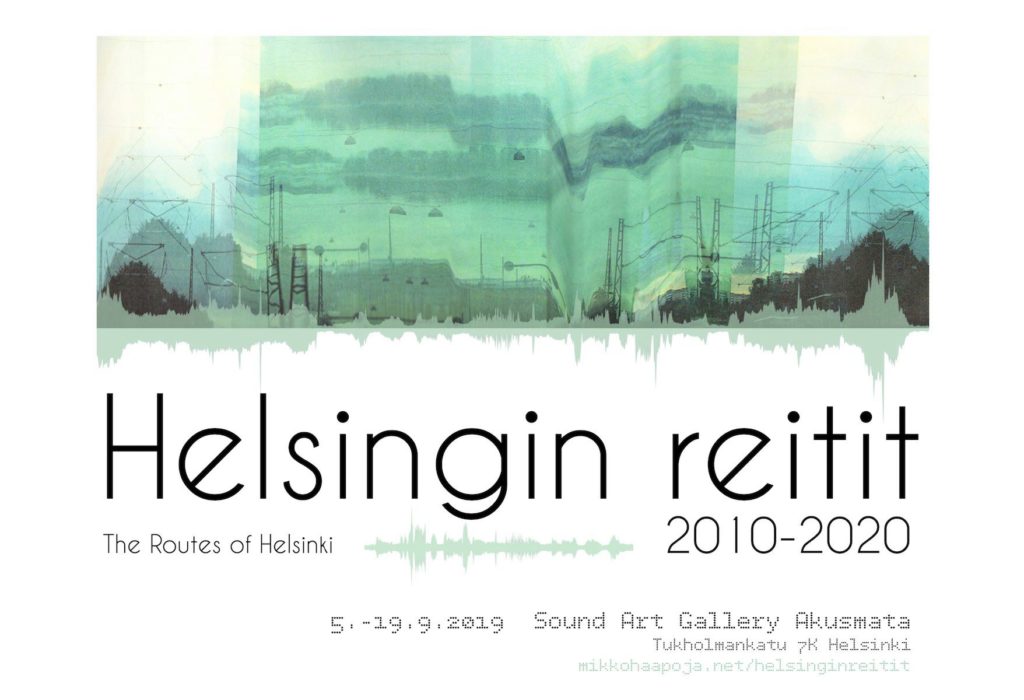 How does the city sound and how does it feel to just listen the city? The Routes of Helsinki leads one to a sonic journey from the rapids of Vanhakaupunki to bright summer nights in downtown and to listen the sounds recorded inside the Hanasaari B coal power plant.
The Routes of Helsinki (Helsingin reitit) is a soundscape project created by media & sound artist Mikko H. Haapoja and it consists of various audio-visual and sound art works. The project has focused on the changing soundscapes of Helsinki since 2010, on boundaries between nature and the city. In addition to the sound art compositions and media art installations, The Routes of Helsinki offers 'Sound Landscapes' performances with live painting, music and urban poetry.
The Routes of Helsinki 2010-2020 exhibition offers inspiring urban exploring in the form of rare and familiar Helsinki sounds, and its first installation will happen in Sound Art Gallery Akusmata in September 2019.
---
Mikko H. Haapoja is a versatile media artist & music professional – a producer, composer, musician and sound engineer from Helsinki, Finland. Haapoja works fluently with various music genres from acoustic folk music to contemporary electronic music, from alternative rap to indie pop.
Since 2014, Haapoja's media & sound art projects The Routes of Helsinki & Oases from HEL have been presented in many galleries in Helsinki and New York, in Helsinki City Museum and in public city space, including metro platforms of Helsinki Central Railway station. Meanwhile, Haapoja has also recorded and mixed various global music albums like Okra Playground's 'Turmio' and Nathan Riki Thomson solo LP.
« Budhaditya Chattopadhyay: Machine Poetry Taina Riikonen: The Anatomy of Desire »