Budhaditya Chattopadhyay (IND)
MACHINE POETRY
August 29 – September 2, 2019.
Exhibition opening: 29.8. at 14-20
Opening times:
29.8. 14 – 20
30.8. 14 – 17
31.8. – closed –
1.9. 14 – 19
2.9. 14 – 18
---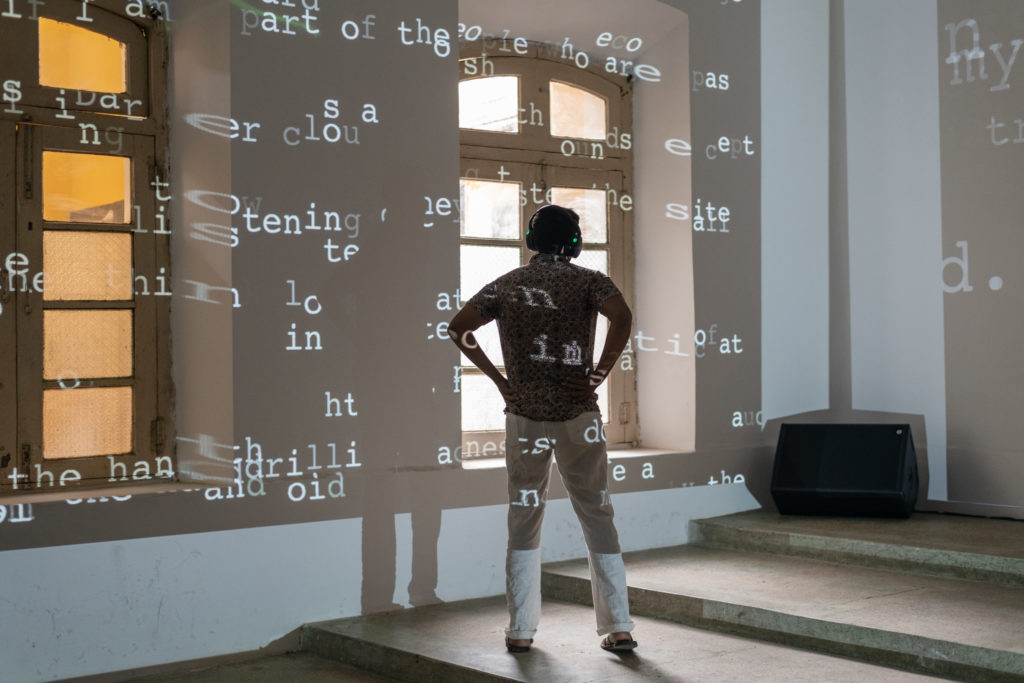 The currents of ultra-capitalism is manipulating our understanding of the social and environmental realities by proliferating numerous delusions like growth, urban expansion, development, consumption, difference and competition as natural. How can we deconstruct these naturalizations that are imposed on our perception? Can we consider poetry as the tool to subvert the intentionality of the contemporary machine society that is based on control, surveillance, fear psychosis, and driven by AI?
'Machine Poetry'
is a sound installation that searches for poetic openings in the machine-induced sound-world and advocates for poetic contemplation involving pre-cognitive association, impromptu flashes and explosions of memory, sensitivity and perceptiveness of an altered and subjective reality as the crucial parameters for an augmented intelligence. As many scholars have argued, there is a stronger link between sound perception and the human faculties of imagination and contemplation, making any sonic experience more private, intimate, and subjective than other sense modalities. Using humanly spoken words within a site-responsive and generative sound environment at the methodological core of the work, the argument for a deep necessity of a poetic rupture in contemporary human condition is provided an entry-point, developed, and substantiated in this participatory and discursive installation.
---
Budhaditya Chattopadhyay (IND) is a media artist, composer and researcher, holding a PhD in artistic research and sound studies from ACPA, Leiden University, The Netherlands. He is currently a Mellon Postdoctoral Fellow at the Center for Arts and Humanities, American University of Beirut. Focusing on sound as primary medium, Chattopadhyay produces works for large-scale installation and live performance addressing contemporary issues of climate crisis, human intervention in the environment and ecology, migration, race and decolonization. Chattopadhyay's works are published by Gruenrekorder (Germany) and Touch (UK). He has received numerous fellowships, residencies and international awards, and his works have been widely exhibited, performed or presented across the globe. His writings on various issues of sound studies regularly appear on peer-reviewed journals internationally. Prior to his PhD, Chattopadhyay has graduated from the national film school of India specializing in sound recording, and received a Master of Arts degree in new media/sound art from Aarhus University, Denmark. Website: http://budhaditya.org/
---
NOTE:
– On Wednesday 28th, Budhaditya Chattopadhyay will give a talk / lecture performance 'Unperforming Sound: from the Margins of Artistic Research' at CARPA6 conference in Kiasma museum.
– On Saturday 31st, he will give 'Hyper-listening: praxis. Workshop on (urban) sound, listening and wellbeing' in the 'Music, Sound and Wellbeing. A Transdisciplinary Symposium' at University of Eastern Finland, Joensuu.
« LIVE: Project VO (JPN/FIN/GER) / Émilie Payeur (CAN) / Jukka Kääriäinen — Natalia Castrillón Duo Helsingin reitit – The Routes of Helsinki 2010-2020 »