An Evening of Ambient
Andrea Camporotondo
[ówt krì] w/ Lauri Peltonen & Sonja Peuhkurinen, dance
19.11.2022 at 18:00
-free entrance-
---
Live ambient sounds
18:00 the doors
18:30 Sonja Peuhkurinen
19:15 [ówt krì] w/ Lauri Peltonen
20:10 Andrea Camporotondo
---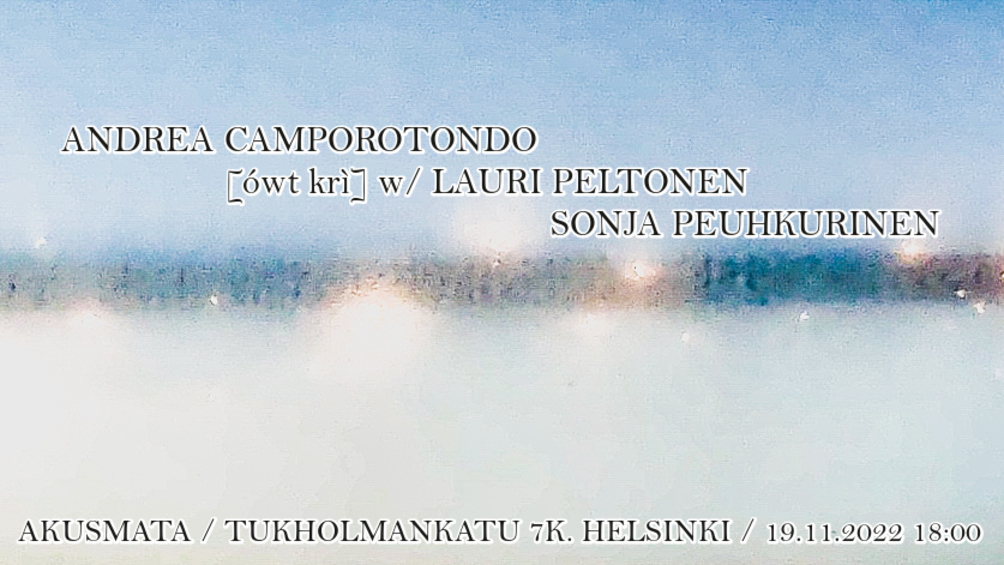 Sonja Peuhkurinen
Sonja Peuhkurinen is a flute player and contemporary dancer from Helsinki. Her musical work is focused on creating calm flute ambient. She is particularly interested in art's ability to deepen and brighten life.
***
[ówt krì]
[ówt krì] is Helsinki-based Dark Ambient sound project that started late 2005. The project is a solo effort of Kenneth Kovasin, a self-taught sound artist from Helsinki, Finland. Kenneth creates soundscapes mainly through looping sounds created by effects and self-made instruments.
***
Lauri Peltonen
Lauri Peltonen is a Finnish multidisciplinary artist who has worked in many fields of art. He is best known for being a guitar virtuoso and a dancer, those two often going hand in hand in various kinds of performances, but he has also worked in experimental film, music videos, improv theatre and the list goes on…
***
Andrea Camporotondo
Andrea Camporotondo is an Ambient Post-Rock/ Experimental Guitarist.
Developing a mix of Analog and Digital soundscapes, to which he creates either rhythm pulsations mixed with melodic guitar noises and phrases.
Using primarily analog and digital effects , and traditional tube amplifiers, creating washes of otherworldly or classic clean and raw guitar sounds, by manipulating waves, and time.
« ​Karri Kokko: Open Studio — Avoimet ovet AKUSMATA POLYPHONIC 2023 »