7K

Group Exhibition
4.4.–26.4.2013
Sound art: art about sound, using sound as both its medium and subject
Sound artist: a person who utilizes sound as a medium/subject in his/her art
Sound art gallery: a space that exhibits sound art
7K is a proposition on what sound could be in a gallery context, made by seven artists. The exhibition asks what kind of ways of representation sound art has and what sound could tell us about space and place. As a result to these processes the exhibition introduces seven works to the public.
The thematic basis for these seven works is the actual exhibition space, Sound Art Gallery Akusmata, as a space, place and time. The works take different approaches in dealing with the characteristics of Akusmata as a physical, historical and social space. The exhibition explores sound as art and as a medium for information and also deals with the relationship between the exhibition and the one experiencing it.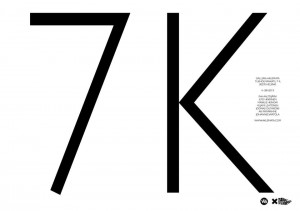 The artists of 7K:
Ina Aaltojärvi
Ilpo Heikkinen
Markus Heino
Viljami Lehtonen
Joonas Outakoski
Aki Päivärinne
Johannes Vartola
The artists of this exhibition are MA-students majoring in Sound Design in the Theatre Academy, University of the Arts Helsinki.
« Sami van Ingen & Petri Kuljuntausta: A Olga Palomäki: Manipulated »