AZIMUTH
Sarah Badr
Sat-Sat  10. – 17.9.2022
Opening times: Sat-Sun 12-16, Mon-Fri 14-18.
"Azimuth is an immersive biomorphic model of the entangled orders of simulation. It is a
reflection of a basic natural reality while masking basic reality — the idea of nature."
The exhibition is part of the Envelope Festival for Immersive Sound, 10.9. – 29.10.2022.
---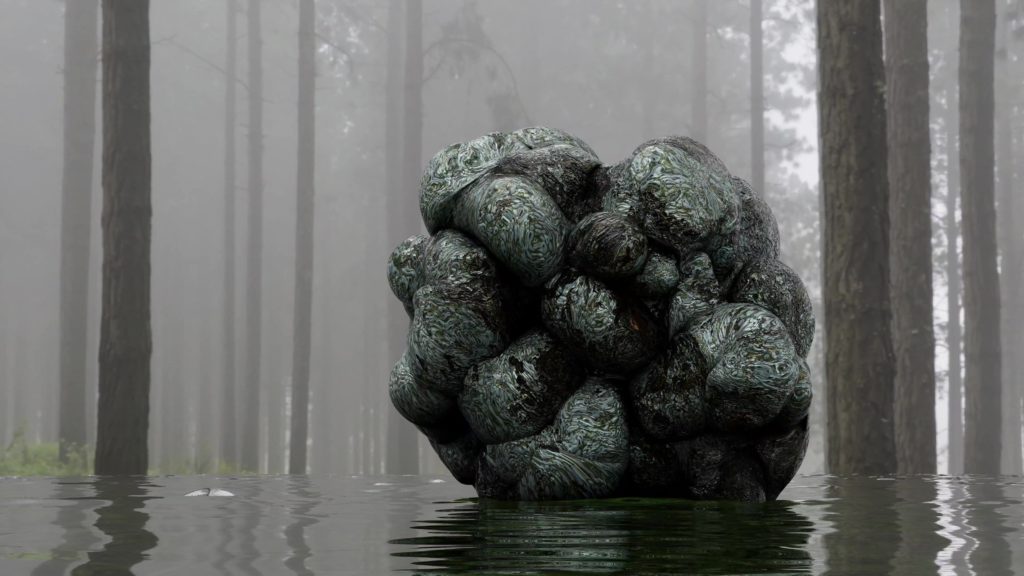 ---
In Azimuth, audiovisual artist Sarah Badr channels a tension between organic and synthetic forms, digitally rendering pulsating alien objects and shimmering surfaces that change and transform in a responsive, symbiotic relationship with the tactile sounds she corrals into the intricate texture of her compositions.
   Resolutely synaesthetic, Azimuth oscillates between the recognizable and the impossible, a dichotomy that is suggested in the work's title. An azimuth, in geometry, is an angular measurement in a spherical coordinate system commonly referenced in the field of immersive sound.
   When applied in astrology and used as a celestial coordinate, an azimuth is the horizontal direction of a star, or other astronomical object. In one sense the title, and the work, is functional, referring to a unit of measurement. But when applied to the world around us, it becomes ontological — a marker for locating an object in physical, or artificial, space.
---
Sarah Badr is a British-Egyptian artist living in Riga. Her practice focuses on world creation, complex natural phenomena, and algorithmic media. Building procedural systems for simulation and spatialisation in graphics and sound allows her to explore the association between form and place in new digital spaces. Her work involves various manifestations of the digital experience: video, 3D sculpture and animation, augmented photography, audiovisual performance, installation, and immersive sound for physical and virtual environments. A classically trained multi-instrumentalist and composer, she produces solo experimental works under the project name FRKTL. Website: sarahbadr.com
The Azimuth exhibition is part of the Envelope Festival for Immersive Sound. A series of events will take place across the Nordic-Baltic region, in person and online, from September 10th until October 29th. The festival hosts spatial music concerts, sound art installations, seminars, and workshops by Nordic-Baltic artists. Exploring the future of audio technologies, Envelope is a creative collaboration between artists and organisations from Finland, Norway, Denmark, Latvia, Estonia, and Lithuania. Website: envelopefestival.com (opening soon)
Azimuth was shown as part of 'Listening To The Anthropocene', a group show at Coventry
Cathedral, which was part of the 2021 Coventry Biennial, in Herbert Art Gallery & Museum, UK.
Supported by Nordisk Kulturfond, State Culture Capital Foundation (SCCF) and others.
« Akusmata Live 2022, release by [ówt krì] ​Karri Kokko: Open Studio — Avoimet ovet »