ÉMILIE PAYEUR (CAN) /
PROJECT VO (JPN/FI/GER) /
 JUKKA KÄÄRIÄINEN
—
NATALIA CASTRILLON (COL) DUO

Wednesday, August 14, at 19:00
Doors: 18:30
---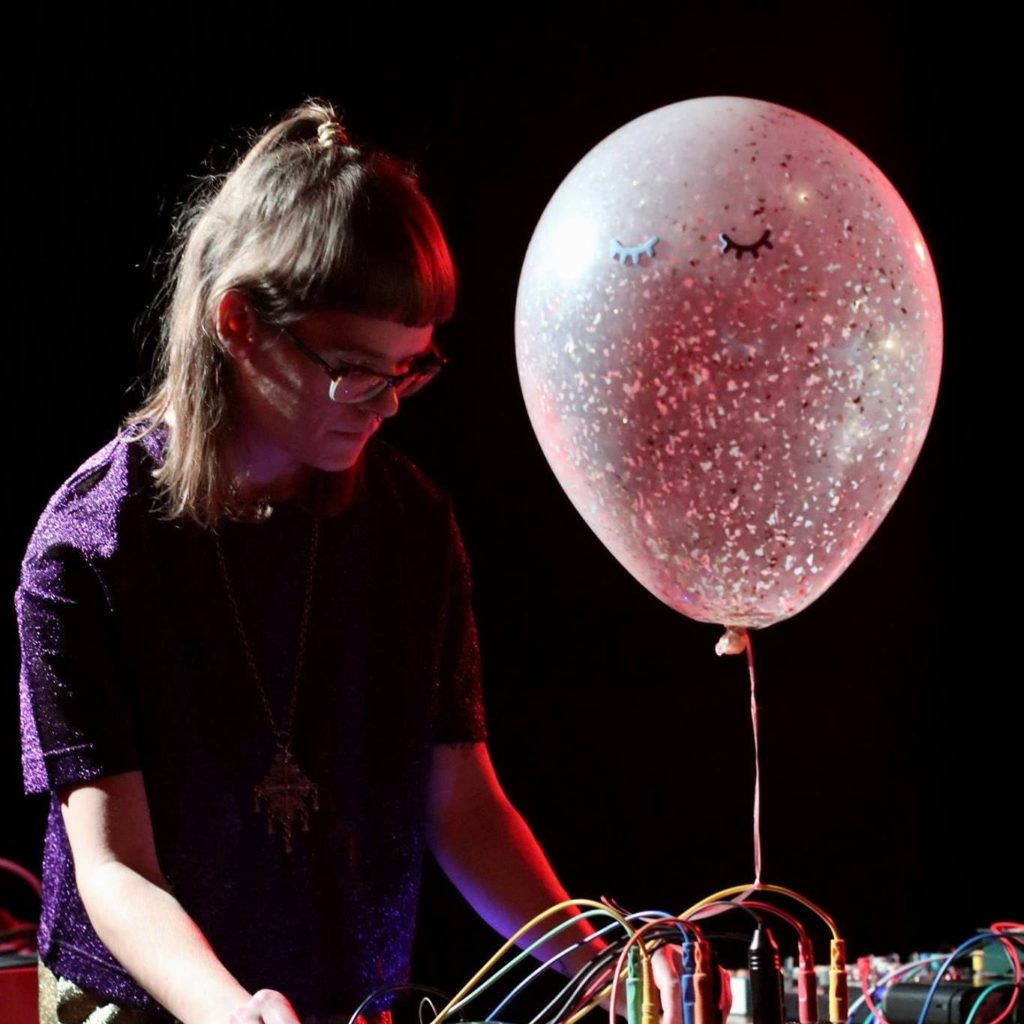 ÉMILIE PAYEUR (CAN)
Émilie Payeur is a multidisciplinary artist from Montreal, Canada, mainly active in experimental music and visual arts. Her music, often described as minimalist and sometimes harsh, is mainly based on the no-input technique and on risk-taking. In her visual work, she is interested in the traces she perceives as remnants of actions from the past; also in the manipulation of reality, of others views and her own view. Emilie has a master's degree in electroacoustic music composition from the Université de Montréal and her work has been performed all over the world and has received numerous awards, both in Canada and internationally.
Émilie is a member of Dead Squirrels (noise music trio), Kohlenstoff Records (label and experimental music collective), Projet K (experimental ensemble), Moshi Moshi (experimental and Kawaii audio/visual trio) and Jeunesse Cosmique (music label and cosmic family). She also plays in the Giri Kedaton Gamelan. Émilie's performance at Akusmata will be an attempt at going somewhere else musically speaking and hopefully magic will happen.
---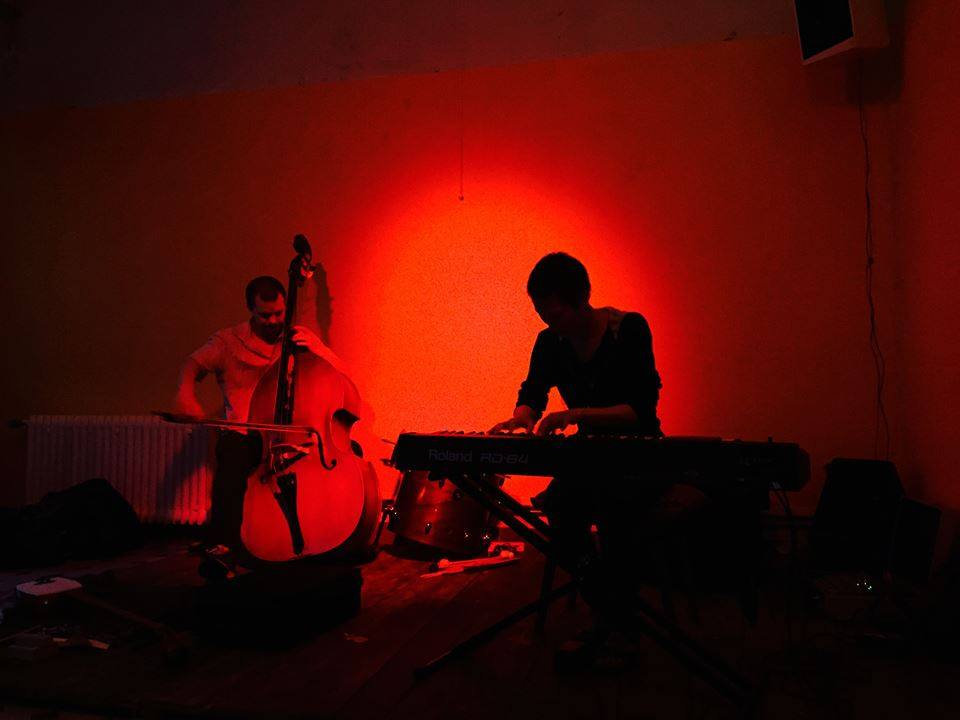 PROJECT VO (JPN/FI/GER)
Rieko Okuda, keys
Antti Virtaranta, double-bass
Project VO (JPN/GER/FI) is an improvising duo between double-bassist Antti Virtaranta and pianist Rieko Okuda. Since their first album, glass hopper, 2012, they have continued expanding their creative ways of navigating the free improvisation landscape. The combination of piano and bass has taken Project VO on a sonic journey that keeps pushing them constantly to new directions.
Japanese-born pianist, composer and multi-instrumentalist Rieko Okuda, have made a name among new generation of the Berlin improvised scene. She settled in Europe after MA in piano at Juilliard School of Music in New York. In the USA she worked with saxophonist and a bandleader Bob Mintzer at first, following stints with Jon Faddis and John Fedcheck. Joining a band of alto-saxophonist Marshall Allen of Sun Ra Arkestra followed, for two years, working also with Elliot Levine, cellist of Cecil Taylor, and Calvin Weston, drummer of Ornette Coleman's Prime Time Band. In Berlin, she develops projects with double-bassist Antti Virtaranta with whom she plays in Project VO and Akvariettrio. Her another piano trio is called Cleaning Each Other, as much as collaborations with musicians like Audrey Chen, Els Vandeweyer, Susanne Zapf, Yuko Kaseki, Axel Dörner, Norbert Stammberger, and Otto Szabolcs Horvath, a.o.
Antti Virtaranta is a Finnish bassist and composer. He began his music journey at 17 years old focusing on Jazz music, attending University of the Arts in Philadelphia. Quickly he was introduced to free jazz and experimental electronic music, and this changed everything. He moved to Berlin to join the vibrant scene of improvisers, starting projects with many musicians and developing his own sound. Currently he is focused on expressing his voice in music and sound through composition and improvisation. Using his influences from jazz and rock music and self-taught contemporary music, his musical language is formed. Nowadays, his focus is on concepts and compositions for solo bass and solo electronics, and using non-conventional notations. These ideas develop and are imposed into the small groups (duos and trios) and larger ensembles that he is involved with to create instant composition in his varying projects, which include collaborations with dancers and visual artists, on top of the numerous musicians he works with.
---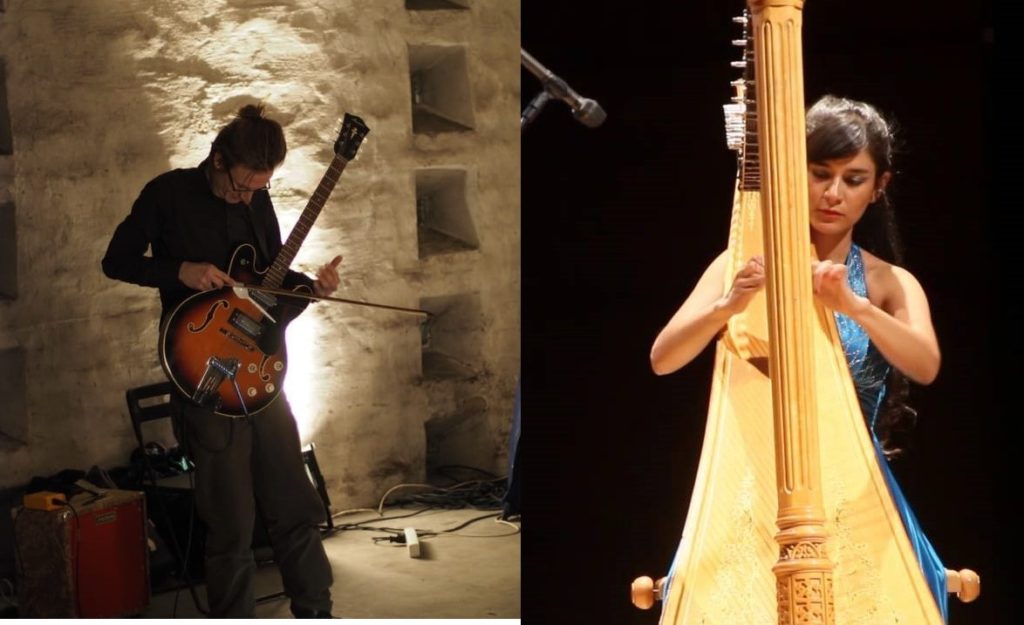 JUKKA KÄÄRIÄINEN – NATALIA CASTRILLON DUO
Jukka Kääriäinen is a finnish musician specialised in experimental and free improvised music. Jukka's instruments vary between plain acoustic and prepared guitar to back bag of pedals, live-electronics and bowed electric guitar. Jukka has toured many European countries such as Italy, Hungary, France, Germany, Russia and Estonia. Alongside solo concerts Jukka has been collaborating with musicians like Teppo Hauta-Aho, Emilio Gordoa, Mikko Innanen, Kalle Kalima, Paul Pignon, Harri Sjöström, Jone Takamäki, Roomet Jakapi, and Pauli Lyytinen.
Natalia Castrillón is a versatile harpist from Colombia interested in improvisation and the experimental sound possibilities of the pedal and lever harp. She has collaborated with artists from different music genres and disciplines such as theatre, dance and contemporary improvised music. Natalia plays actively in different projects that include Latin American, West African, World, and Experimental Improvised Music. She graduated from Caldas University (Colombia), and also studied harp, chamber music, symphony orchestra, music theory and ear training at Pontificia Universidad Javeriana (Colombia). In addition, she worked as a music and harp teacher at Fundación Nacional Batuta in Colombia.
« LIVE: Marjamäki-Metsätähti + Rasmus Hedlund Budhaditya Chattopadhyay: Machine Poetry »