Cancelled: Tom Djll, Tim Perkis &
Jukka-Pekka Kervinen
KINDA GREEN (LIVE)
26.6.2023 @ 18:00 – 21:00
– The concert is Cancelled –
---
Tom Djll, trumpet + electronics
Tim Perkis, electronics
Jukka-Pekka Kervinen, guitar + electronics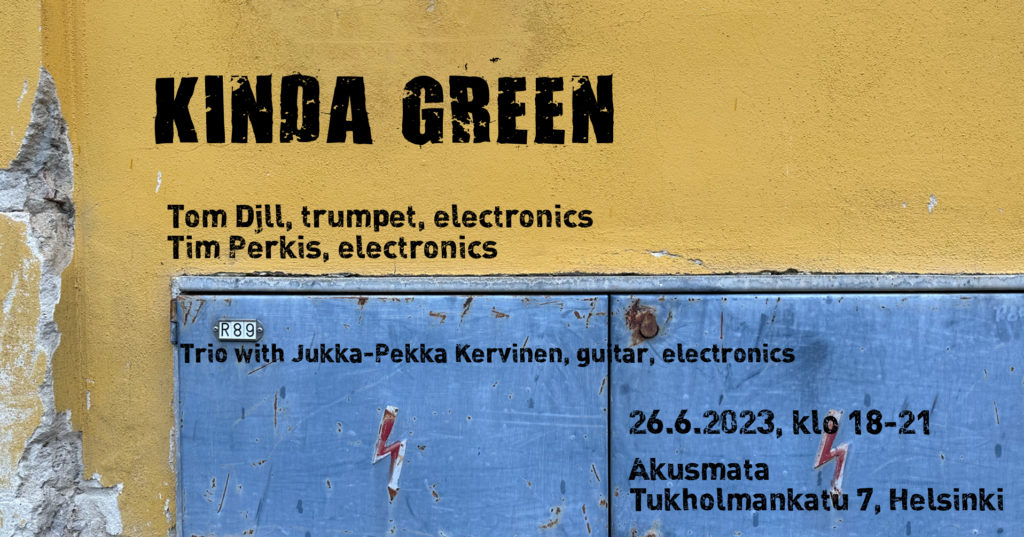 ---
TOM DJLL
Tom Djll is an American musician based in the San Francisco Bay Area since 1985. His chief
area of work is among improvisational practices, using trumpet and analog synthesizers. In
his solo practice, Djll often disassembles/reconstructs the trumpet using simple, sometimes
found materials and objects, resulting in an idiomatic, self-contained brass language with
Dadaistic overtones. He regards these temporary instruments as characters in improvised
scenarios, giving them names such as Whirly Honkblatter and Operation Remote Dislocation
Voice-Throwing Irrigator. Djll also incorporates electronics and movement into his solo and
group practice.
Djll's long-term projects include:
• Grosse Abfahrt — investigations of sociality, identity and language among simultaneous
groupings of improvisers. Core members Gino Robair, matt ingalls, John Shiurba and Tim
Perkis
• Tender Buttons — instant compositions for piano, toys and electronics, with Tania
Caroline Chen and Gino Robair
• Euphotic — sound environments arising from localized hermetic/invented instrumental
approaches, with Cheryl Leonard and Bryan Day
Djll has been long associated with Bay Area creative music, beginning in 1985 at Mills
College (MFA, 1993-95) then as a founding member of the Improvised Music Association
(1991), FREEWAY (1992-5) and the Transbay Creative Music Calendar (2000-10); as an oncall
member of sfSound, the Mills College Didjeridoo Ensemble, Robair's I, Norton
ensembles, The Molecules, The Mills College Contemporary Music Ensemble, the Church of
the Super Serge, and the Doors That Only Open In Silence and Resonant Frequencies series
as well as collaborations with the Splatter Trio, Chris Brown, Jack Wright, Toyoji Tomita,
Christopher Williams, William Winant, Fred Frith, Tony Passarell, Tom Nunn, Kyle Bruckmann,
Karen Stackpole, ROVA Saxophone Quartet, John McCowen, Phillip Greenlief, and gabby
fluke-mogul.
Djll contributed to music periodicals The Wire, Musicworks, Signal to Noise and online outlets
Paris Transatlantic and One Final Note from 2002–2012. He is a subject in the 2007
documentary on Bay Area musicians Noisy People, by Tim Perkis.
---
TIM PERKIS
Tim Perkis is a well-known figure in the worlds of improvised and electronic music. He is
also a founding member of several electronic music ensembles, including the pioneering
computer network band The Hub. Recordings of his music are available on the Artifact,
Tzadik, New World and EMANEM labels, among others. His documentary film NOISY
PEOPLE(2007) and the NOISY PEOPLE podcast (2015) are available at perkis.com. Tim and
the HUB were the recipients of the GigaHertz Prize for Lifetime Achievement in Electronic
Music from ZKM in Karlsruhe Germany, in 2018.
---
JUKKA-PEKKA KERVINEN
Jukka-Pekka Kervinen is a Finnish composer, writer and musician. His works are focused on
algorithmic systems, computer-assisted musical processes and composition, free improvisation, aleatoric processes, also microtonal, experimental and electronic pieces for various combinations of human-machine interactions, processed sounds, and open scores for various ensembles and solo pieces. He is a member of Wandelweiser collective.
---