The Barrier Orchestra
'Det kommer främmande'
Premiär fredag 11 juni 19.00
Lunchkonsert 12 juni 12.00
Place: Folkhemmet i Östra Hoby, Borrby, Sweden.
---
"… a magical experience. The Barrier Orchestra breaks all barriers in Österlen. It's venturing, it's experimental and it's undeniably what you can call "narrow" music. But when you open your ears, this is very appealing."
– https://www.ystadsallehanda.se/kultur/en-sommarkvall-i-ostra-hoby-8784bd57/
---
The Barrier Orchestra är en internationell ensemble som Ann Rosén startade 2015 som en svensk grupp under namnet Barriärorkestern och har med tiden vuxit och fått internationell inriktning.
The Barrier Orchestra spelade på Österlen sommaren 2019 då de framförde Bovetets ljudvågor.
Musikerna har skiftat lite genom åren och kommer från olika håll som klassisk musik, elektronisk, improvisation och ljudkonst. Alla är utvalda för sin speciella kompetens och vilja att utmana, ta spjärn och använda sina egna barriärer.
I dagsläget vet vi inte vilka av våra musiker, förutom de som redan är i Sverige, som kommer att kunna befinna sig på plats i och med pandemin. Men alla kommer att vara med under repetitionerna och på föreställningarna även om några kommer att medverka online.
Medverkande
Petri Kuljuntausta, elgitarr (FI)
Mikko Raasakka, klarinett (FI)
Linn Persson, saxofon
Jakob Riis, trombon, live-elektronik (DK/SE)
Anna Lindal, violin
Hanan Benammar, violin (FR/NO)
Lise-Lotte Norelius, slagverk , live-elektronik
Jørgen Teller, elgitarr (DK)
Ann Rosén, live-elektronik
Fabian Svensson, melodika
Gunnel Pettersson, visuella inslag
Sten-Olof Hellström, klang- och bild-regi
Produktion
Konstnärlig ledning: Ann Rosén
Komposition: Ann Rosén, Fabian Svensson och Sten-Olof Hellström
Livestream producent: Sten-Olof Hellström
Producent: Jacob Schmidt
---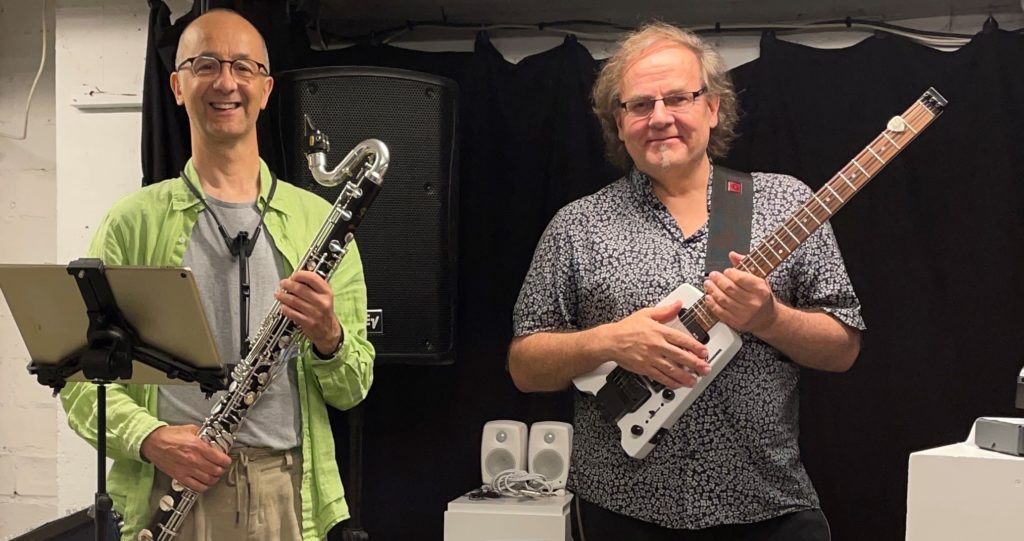 In the image are two streaming musicians from the 12-member The Barrier Orchestra.
Mikko Raasakka and Petri Kuljuntausta played in Akusmata over internet and the rest of the orchestra performed in Sweden, where their parts were mixed to the orchestra.
Special thanks Petri and Mikko sends to: Ann Rosén on the formation of the project, Fabian Svensson on composing solo parts for guitar and clarinet, and Sten-Olof Hellström for mixing our streaming into the orchestra.
« SOUND, ART & CLIMATE CHANGE (book) & CCHANGES (cd) [ówt krì] + Pigments – Online Event »