Ann Rosén and the Barrier Orchestra
DRAWING MUSIC
Concert-installation and concerts
November 14-16, 2019
Thursday 14:
Opening at 17-20, installation with short performances.
Friday 15:
Installation open at 17-19:00. Concert I (with the whole group) at 19:00.
Saturday 16:
Installation open at 15:00-16:00. Concert II (with the whole group) at 16:00.
---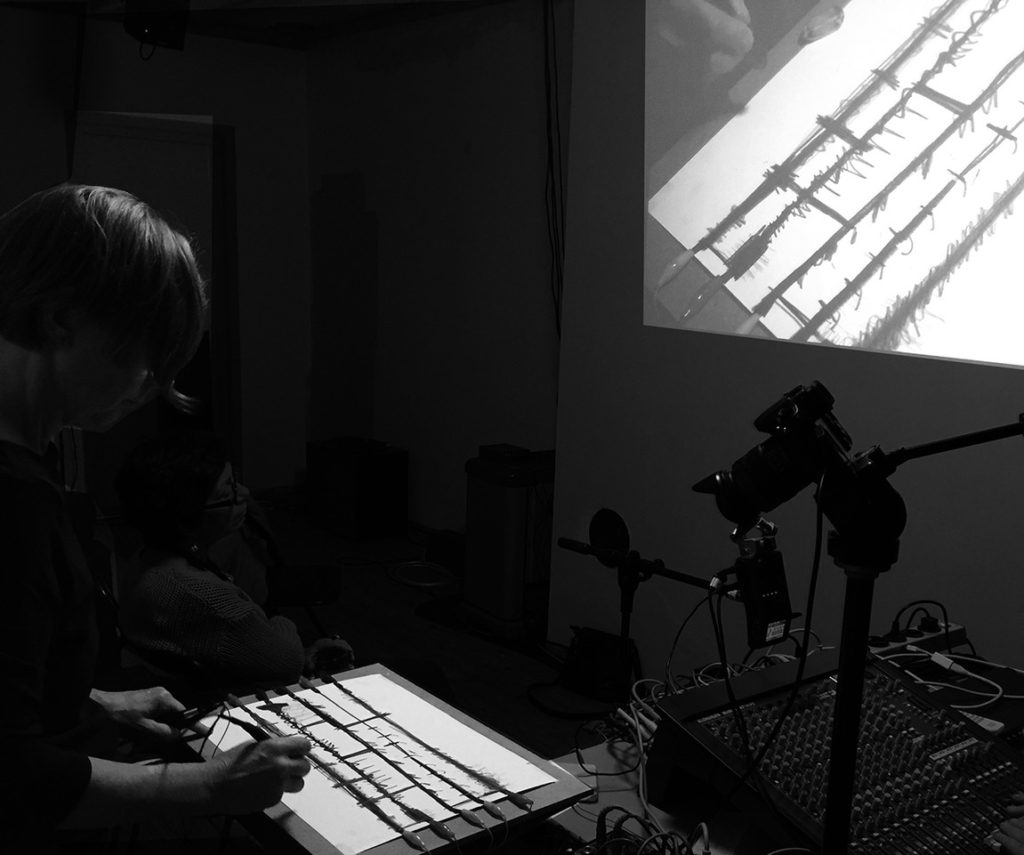 The Drawing Music installation is a process that will take place under three days at Akusmata Gallery and at the end of second and third day there will be a concert.
With pen and paper Ann Rosén creates a very personal electro-acoustic music and when she plays together with musicians from the Barrier Orchestra exciting, explorative and musical soundscapes emerges.
Drawing Music is a development of the Graphite Barrier instrument and musical performance project. The instrument consists of graphite pens, paper, arduino card, and a software synth. Various points on the paper are connected to the synth. By drawing different coupling paths between these points and varying the thickness of the paths you control the synth. Further control is achieved by using the patchbay where you can directly patch different parts of the drawing to the synth. The drawings also serve as a score that the musicians relate to.
The music and the environment relate to each other through the meeting with the audience in the same way as the musicians relate to the drawings and vice versa.
On this occasion the Barrier Orchestra consists of Petri Kuljuntausta electric guitar (FI), Mikko Raasakka clarinet (FI), Sten-Olof Hellström electronics (SWE) and Ann Rosén live electronics and live score.
Drawing Music project and the Barrier Orchestra are different modules in the umbrella project the Great Barrier Orchestra, a trans-disciplinary project in sound art, art music, and performance.
With support by the Swedish Arts Grants Committee.

*
http://annrosen.se/
http://kuljuntausta.com/
http://www.raasakka.net/
http://www.stenolofhellstrom.se/
http://storabarriarorkestern.se/
---
« EEGsynth & Body Music demonstration by Oneplusoneisthree +guests LIVE: JIN SANGTAE (KOR) »