Polyphonic 2019
January 14-19, 2019
Vuotalo, Helsinki
Six days of adventurous music and sound art for adventurous minds!
POLYPHONIC is an intensive sound art and electronic music event at Vuotalo Cultural Centre in Helsinki. Invited musicians and performing artists are from Nordic countries and Finland, offering for the audience wide spectrum of new sonic expression from the fields of experimental electronic music, sound art and ambient. The program includes electronic music, do-it-yourself musical instruments, sound performances, and improvised music. A sound installation is open in the gallery. The producer of the event is Akusmata, the first sound art gallery in Finland. The program and updates will be published at akusmata.com and Akusmata's facebook page https://www.facebook.com/Akusmata.
The international artists are visiting as a part of the Puls concert program / Nordic Culture Fund.
PROGRAM
Monday January 14, 2019 | 18:00-20:00
Jaakko Penttinen
Jesse Juup
Tuesday January 15, 2019 | 18:00-20:00
Esa Ruoho
Sarana (Janne Särkelä)
Wednesday January 16, 2019 | 18:00-20:00
Jonas Olesen & Sandra Boss (DK)
Vuosi (Ilpo Numminen ja J. Koho)
Thursday January 17, 2019 | 18:00-20:00
Bjørnar Habbestad (NO)
Mats Erlandsson (SE)
---
Monday – Saturday, January 14-19, 2019
Petri Kuljuntausta: POLYPHONIC. Sound installation for 100 ticking clockworks at Vuotalo gallery.
The installation is open during the opening hours of Vuotalo.
---
VUOTALO CULTURAL CENTRE
Address: Mosaiikkitori 2, Vuosaari, Helsinki
Website: http://www.vuotalo.fi/en/contact-information
Map: Google Map
---
'Maskinel terapi'
(Mechanic therapy)
Electric muscle stimulators, sleep machines, tuning forks, bells and tone generators are some of the ingredients in this installation-performance, where obsolete sound apparatus come to live again in new musical narratives. The piece examines the therapeutic, hypnotic and telepatic potential of these lost apparatuses.
"Answering machines, electric muscle stimulators and sleepers are obedient in design, but they have a very specific function that Jonas Olesen and Sandra Boss distort in their audio montage. The machines have served their purpose and are now ready for a media archaeological excavation, where the found sound objects arise from the dead with stories from the other side. It was never meant that the muscle stimulator should be listened to as music. It is not in its design. But have we ever asked the muscle stimulator what it wants? Is it at all interested in human anatomy, or has it always been possible to play in a band? Maybe we never know what a machine's function really is before we ask the machine yourself?"
– (Jonas Olesen & Sandra Boss: An introduction to mechanical therapy and other audio sources that were not intended for music.)
The performance is supported by Puls / Nordisk Kulturfond.
* * *
JONAS OLESEN is a Danish composer and sound artist. Jonas works mainly with physical media manipulations and obsolete electronic equipment. He runs the BIN label that specializes in peripheral audio. He is also active in the group Institute for Danish Sound Archeology. totem.menneske.dk
SANDRA BOSS is a composer and sound artist based in Copenhagen, Denmark. Her work often evolves in the intersection between performance and installation, where machines and instruments becomes sculptures of sound. She explores the overheard sounds of diverse sound sources such as antique tone generators, hearing test machines, bird flutes, children choirs and elongated accordions. Sandra Boss has studied at The Royal Academy of Music in Denmark. She is currently working on a artistic-based PhD on sound art at Aarhus University, Denmark. www.sandraboss.dk
---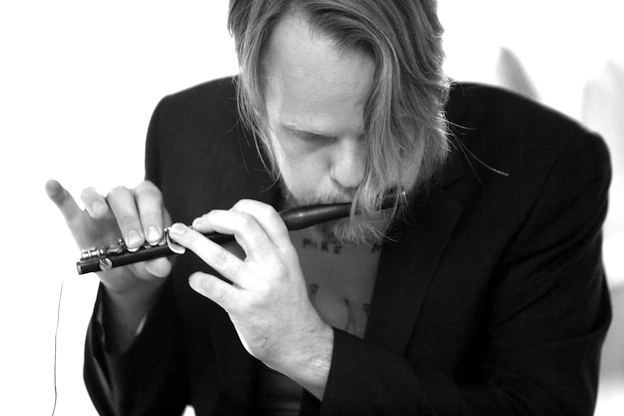 BJØRNAR HABBESTAD
Flutist, composer and sound artist educated in Bergen, London and Amsterdam. Works as a soloist, chamber and ensemble musician in Scandinavia, Europe, Asia and the US, covering musical grounds from classical contemporary to noise, electro-acoustic and free improvised music. Habbestad has collaborated with a a range of composers and improvisors in both the acoustic and electroacoustic domain and is responsible for the Norwegian premieres of works by Sciarrino, Ferneyhough, Nono and others.
Recent activity includes a commision for the opening of the Borealisfestival with Pascal Baltazar and Benjamin Maumus (FR), the solo part in Luigi Nono`s epic work "IO – frammento dal prometeo" at the Bergen Festival and a collaboration with Berlin based percussionist Burkhardt Beins. Habbestad is Artistic Director of +3DB records and a former curator at Lydgalleriet, a Bergen based gallery for sound art. He currently works as a PhD fellow in Performance Practice at the Norwegian Academy of Music where he researches the relationship between experimentation and sonic developments in contemporary music.
http://www.bjornarhabbestad.com/
The concert is supported by Puls / Nordisk Kulturfond.
---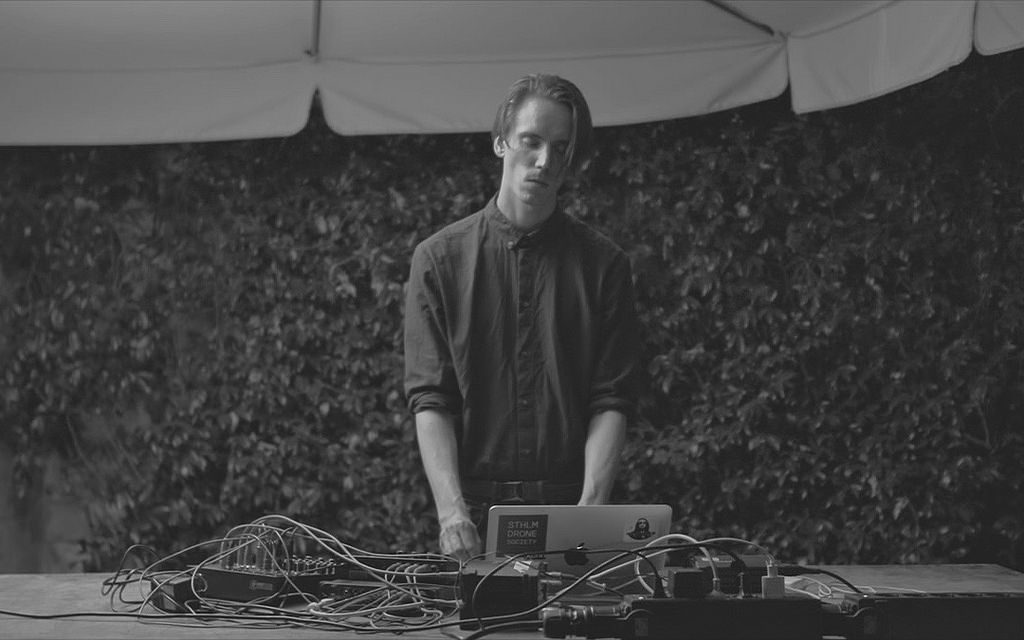 MATS ERLANDSSON
As a composer, musician and sound artist, Mats Erlandsson is part of the vibrantly reemerging field of drone music in Stockholm, Sweden, and is known for the extensive use of sustained sound. In 2016 he released his first two releases at the prominent label for experimental music Posh Isolation. Selective Miracles is characterized by the spacious, almost sci-fi, over-driven synth notes that submerge you in sound with rattling basses and slowly emerging melodies. If the emotion on his first release is inspiration of awe, then his second release Valentina Tereshkova, named after the first woman cosmonaut, gives the impression of conflict. The sound is even more distorted and heavily textured drones are almost oppressive. Both releases are vast sonic journeys, where noise, melodies and drones are expertly compressed to struggle for presence. In 2017 he released a collaborative album Negative Chambers at Miasmah with Yair Elazar Glotman. They set out to record with several different acoustic instruments an album, "an imaginary, dislocated "folk" music for the current dark age".
Erlandsson has undergone studies in composition in Stockholm, where he received a Master's degree in Composition of Electronic Music. In addition to his own artistic practice, Erlandsson holds a position as studio assistant at the world-renowned Elektronmusikstudion (EMS) in Stockholm. Erlandsson presents his work both as a solo artist and in collaborations, most notably together with Yair Elazar Glotman. He has performed his work extensively, most recently in Berlin (The Long Now), Seoul (ACC), Norberg (Norbergfestival), Stockholm (Fylkingen, Sound of Stockholm, Audiorama), Malmö (Intonal festival), Copenhagen (Mayhem) and in Avellino (Flussi Festival).
https://matserlandsson-poshisolation.bandcamp.com/
The concert is supported by Puls / Nordisk Kulturfond.
---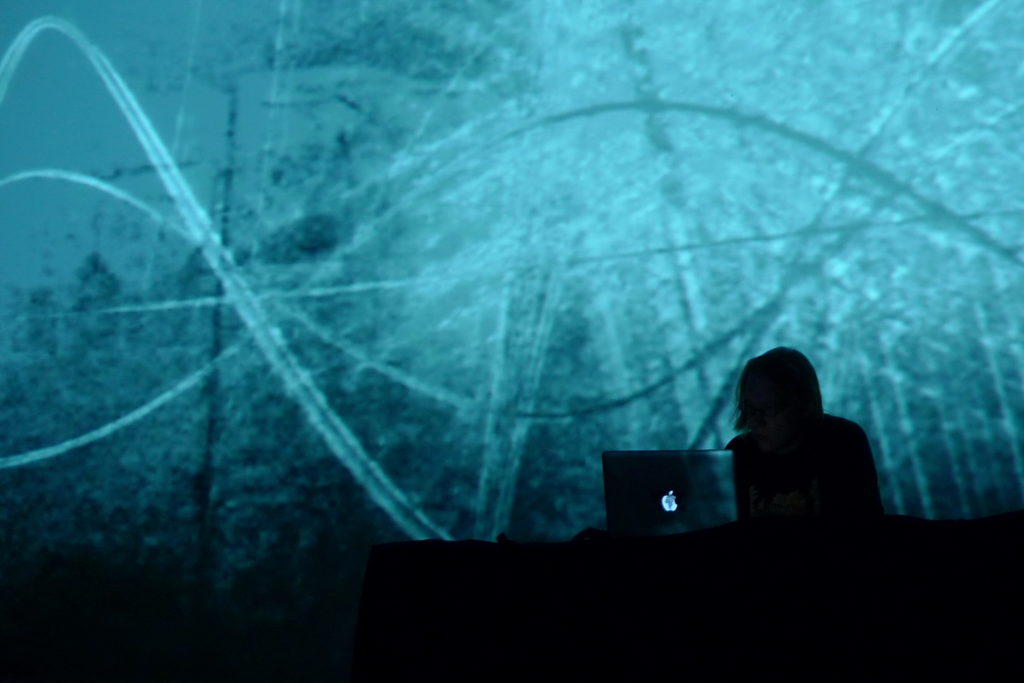 ESA RUOHO
Esa Ruoho, better known as Lackluster, is a Finnish electronic music producer and performer from Kontula, Helsinki. He is also known as Esa Ruoho, XLLV, Can'O'Lard and Kökö and the Köks. Since 2000, Ruoho has played numerous musical performances as Lackluster, Esa Ruoho and HLER in Finland, Sweden, Norway, Netherlands, Belgium, Italy, Germany, France, Spain, Ireland, England, Austria, Poland, Russia, Latvia, Estonia, Bulgaria, Hungary, Lithuania and Ukraine. Current totally: 154 live performances (as of 1 August 2018). Ruoho has also played as warm-up support for numerous famous electronic musicians, such as Biosphere, Petri Kuljuntausta, The Orb, Mixmaster Morris, Brothomstates, Aleksi Perälä/Astrobotnia/Ovuca, Cylob, Wevie Stonder, Machinedrum, Jimmy Edgar, Move D, Jimi Tenor and Bad Loop.
Esa Ruoho started composing electronic music in the mid-1990s and, after 2000 has been releasing recorded music (remixes, compilation-tracks, original work) on dozens of labels, full-length CDs on such labels as deFocus records (Great Britain), Merck Records (Miami, Florida, US),[4] U-cover (Belgium), Psychonavigation Records (Dublin, Ireland), New-Speak Records (Stockholm, Sweden). He has since 2007 worked with SLSK Records from San Francisco and Nice And Nasty from Ireland, the San Francisco-based netlabel TwoCircles Records and the Argentinian netlabel Igloo-Rec, and the American label JellyFish Frequency Recordings.
https://www.lackluster.org/
---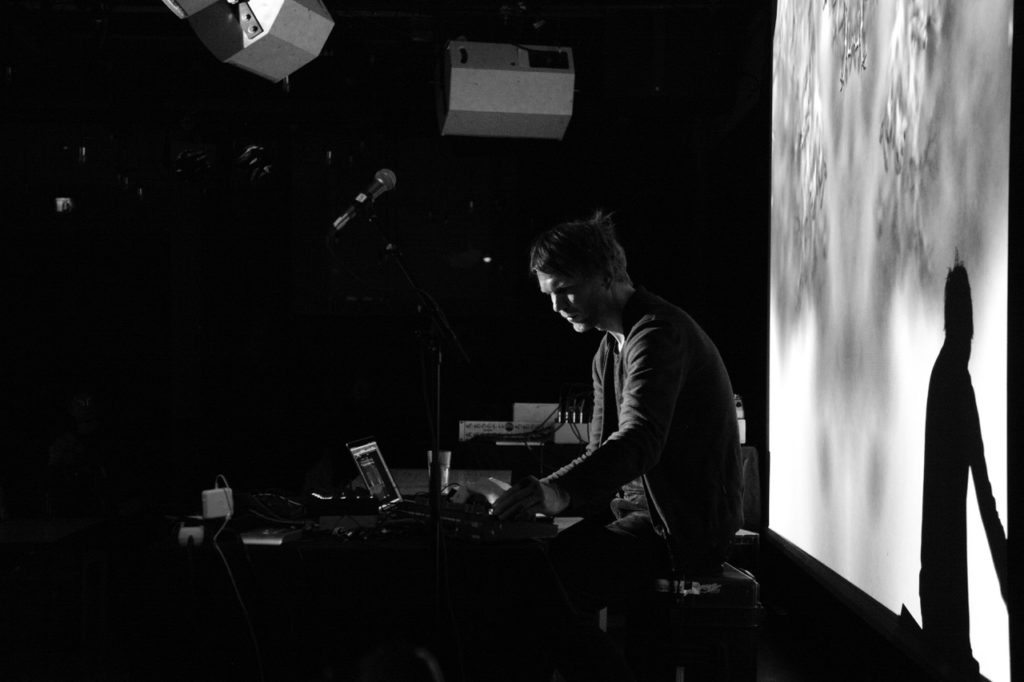 SARANA
"The silence is not disturbed, but augmented as if the music would have always been there, waiting to be found and presented. In there, an emotional connection – an interference of waves – the shift between being a listener and a performer: a metamorphosis of sounds and the stillness of time."
SARANA is the musical dimension of Janne Särkelä, an ambient and experimental artist and sound designer from Finland. Janne has performed intuitive and meditative ambient sets at Finnish and foreign underground techno and psychedelic trance parties, art galleries and urban culture events. Janne's live ambient sets have been heard at Boom 2012 in Portugal – where he performed a three hour sunrise ambient set; at the Ambient Music Conference of 2014; in 2015 he played a two hour live late morning set at Yaga Gathering in Lithuania. In 2016 and 2017 Janne performed at festivals in Indonesia and in the USA, to celebrate total solar eclipses.
SARANA has released two albums, produced by Vir Unis under his Atmoworks (USA) label. Third album will be released by Erototox Decodings (USA), EP from Voyager 1 (FR) is coming up. Many tracks and remixes have been included on releases by various artists and labels. The ambient live sets are held together by self-built and off-the-self computer based tools, and realized by a mobile and portable collection of synthesizers, effects and controllers. The set length has generally been 1 to 4 hours. Janne's sound installation work has been presented at many art events and festivals.
https://soundcloud.com/sarana
---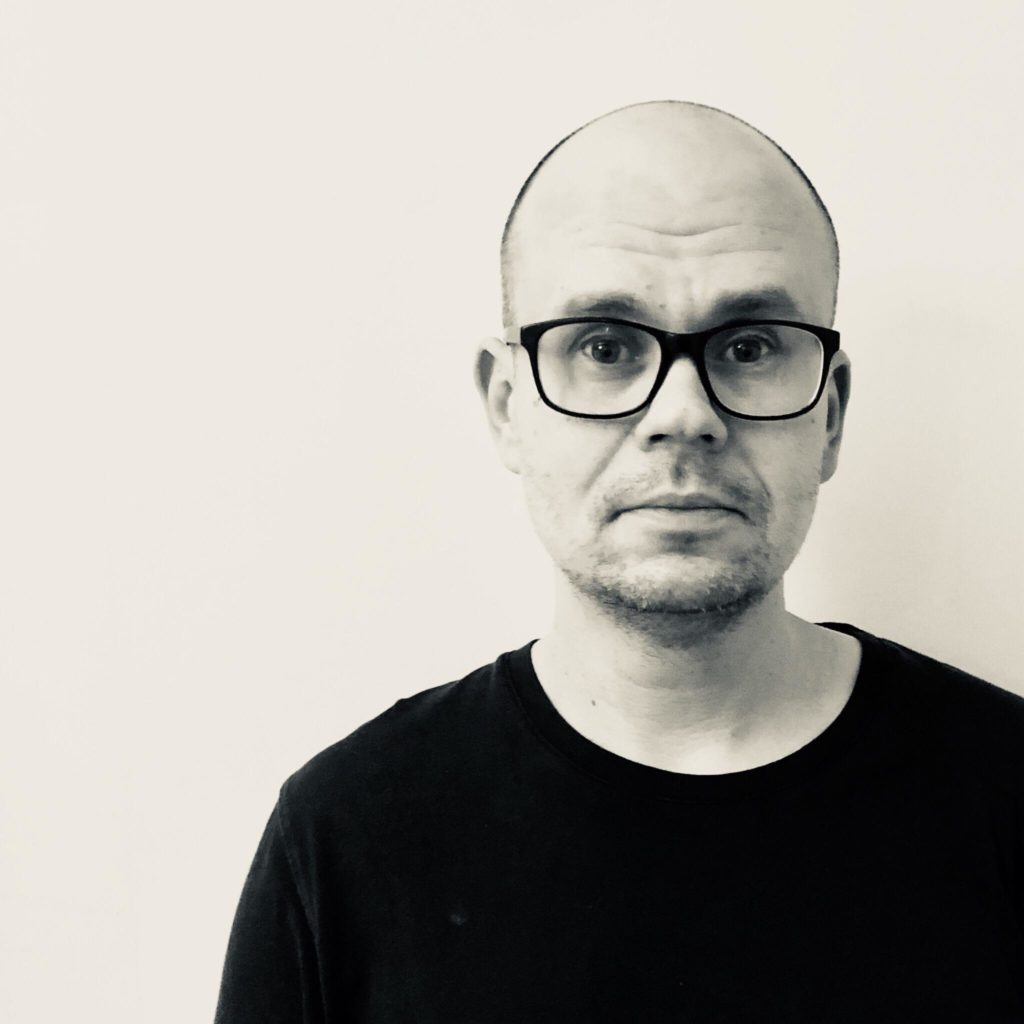 JAAKKO PENTTINEN
Jaakko Penttinen is an electronic musician from Turku. In addition to his solo performances, Penttinen has a background in various bands and he is well known for his ambient/space music project Galactic Travellers. Penttinen works in the Turku Synthesizer Society, curates the Experimental Music Club in Turku Bookstore and makes music in the E-Musikgruppe Lux Ohr, Function Wellenform and Kühl Shot.
At Akusmata's Polyphonic event Jaakko Penttinen presents his work entitled 'Abstraction – Geometry – Music'. Penttinen's performance draws on the techniques used by US minimalists such as La Monte Young, Terry Riley, Steve Reich and Philip Glass to create a restful and static sound where is also room for randomness.
https://www.discogs.com/artist/2078327-Jaakko-Penttinen
---
JESSE JUUP
Jesse Juup is a finnish electronic musician, producer and improvising performer. Usually he is seen performing with some of his bands – Ritarikunta, Konekonekone, Kühl Shot and Tervakello, but this time he is performing solo. His style is usually hypnotic and slowly evolving mutating soundscapes. The instrument palette consists of a modular synthesizer and guitar pedals, each time being unique and tuned to the performance environment. Jesse Juup is also a founding member of Turun syntetisaattoriseura.
https://soundcloud.com/top10
---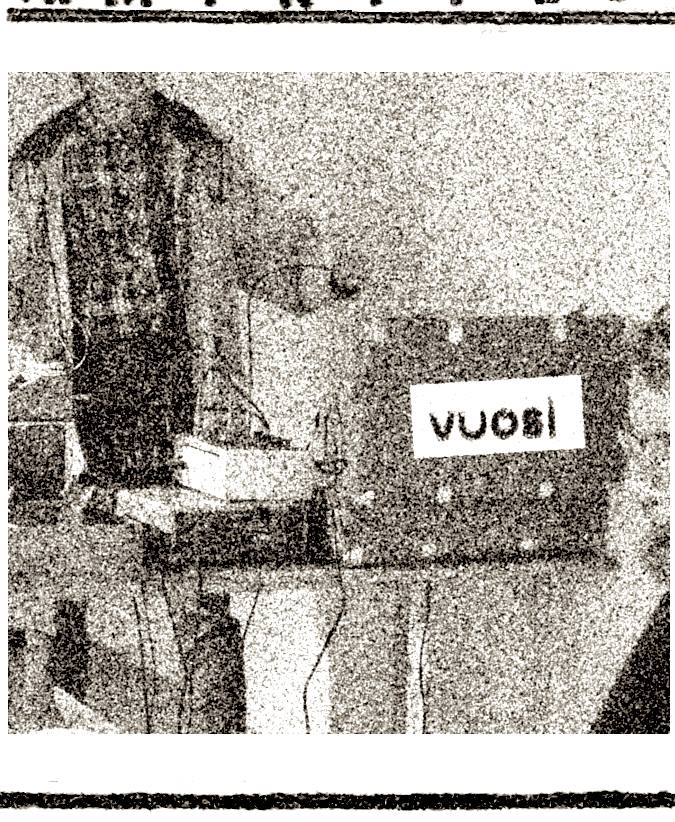 VUOSI
VUOSI is a collective focused on experimental music and sound art, founded in 2014. Vuosi has performed in different parts of Finland, has released recordings and built sound installations. At Polyphonic event in Vuotalo, the members of the collective Ilpo Numminen and J. Koho, perform as a duo.
http://vuosikasetit.blogspot.com/
http://www.vuosi.bandcamp.com/
---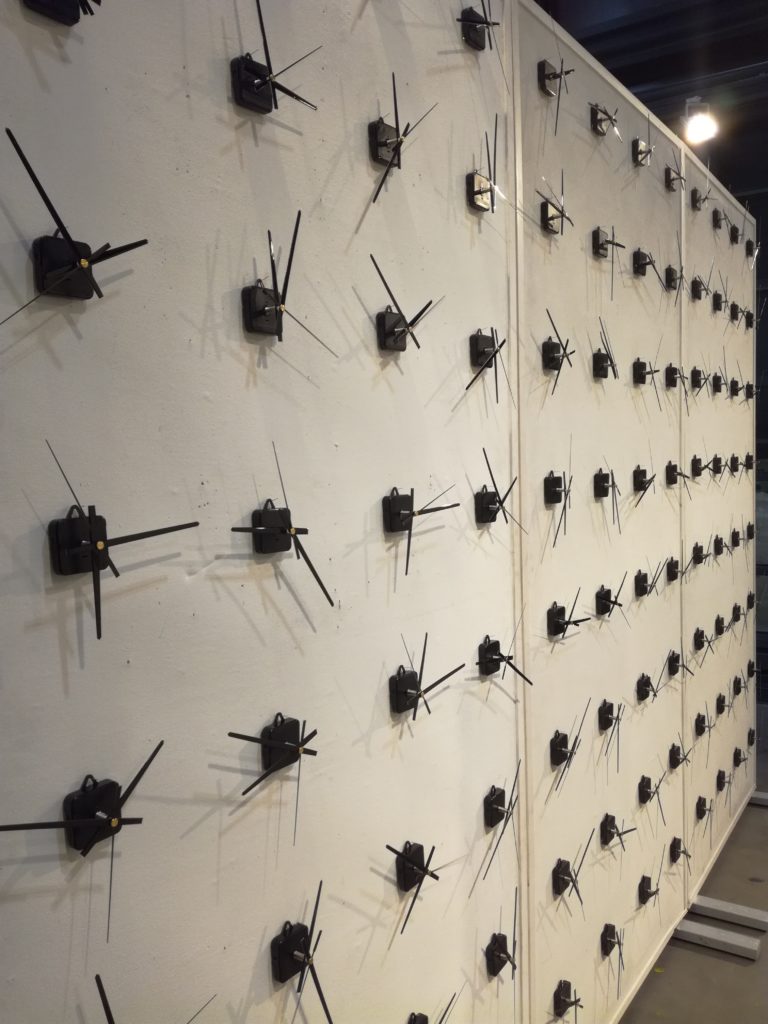 PETRI KULJUNTAUSTA: POLYPHONIC
Materials: 180 clockwork.
POLYPHONIC sound installation explores the various dimensions, obscures and strange features of the time. A hundred clocks give the space a subtle sound field. Since every clockwork is a mechanical and incomplete device, one is slightly slower and one faster, their time is not exactly the same. As a result, the relationship between the ticking clocks is constantly changing. Sometimes the tickings comes together, making an accent that creates a rhythm. In the next moment, the rhythm disappears and the ear will figure out the new rhythm in the other area. Over time, ticking of clocks produces endless variations.
PETRI KULJUNTAUSTA is a composer, improviser, musician, and sonic artist. He has performed music for an underwater audience, improvised with the birds, and made music out of whale calls and the sounds of the northern lights. As an artist he often works with environmental sounds and live-electronics, and create sound installations for galleries/museums.
Kuljuntausta has performed or collaborated with Morton Subotnick, Atau Tanaka, Richard Lerman, David Rothenberg, and Sami van Ingen, among others. He has made over 100 recordings for various record labels in Australia, Colombia, Finland, France, Germany, India, Sweden, UK and the USA. Star's End and Inner Space radio shows selected Kuljuntausta's "Momentum" as one of the most significant CD releases of the year. Kuljuntausta has published three books on Sound Art and Electronic Music. In 2005 he won an award, The Finnish State Prize for Art, from the Finnish government as a distinguished national artist.